Stocks: Storm clouds continue to gather over Greece - CNN Money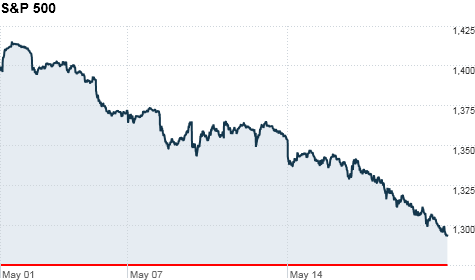 The S&P 500 has tumbled more than 7% in May already, and is on track for its worst monthly performance since May 2010, the month when investors were shaken by the Flash Crash.
NEW YORK (CNNMoney) -- Facebook is finally public, but that won't solve Greece's problems.
Investors are likely to continue to bail out of stocks and continue the move into U.S. Treasuries and gold in search of safety as doubts over Greece's future in the eurozone continue to build.
Elections in Greece earlier this month failed to form a coalition government, and now the debt-laden country is under a caretaker government until the next election in June, which experts say will serve as a referendum on whether Greece stays in the eurozone.
Syriza, a coalition of leftist parties, is currently leading the polls. Syriza has vowed to fight austerity measures that are a condition for Greece to get the €130 billion bailout agreed to in March.
"If the pro-euro major parties fail to muster enough support to form a coalition and the radical left Syriza party and other anti-euro, anti-austerity parties secure a majority, the risk of a disorderly Greek exit from the Euro increases and could roil markets," said John Praveen, chief investment strategist at Prudential International Investments Advisers.
Though a Greek exit would pressure market, the greater fear is what it might mean for the rest of Europe, especially Spain.
While U.S. banks have cut two-thirds of their Greek debt exposure of the past two years, they have not necessarily had the same time to discount a blowup of Spain, said Kathy Lien, director of currency research at Global Forex Trading.
As investors continue to keep a close eye on the region for developments, increased uncertainty in the eurozone will likely boost demand for safe haven investments, Praveen said.
Last week, as U.S. stocks clocked their worst weekly losses of the year, investors rushed into U.S. government debt, sending the 10-year Treasury yield down to 1.71%, the lowest closing level on record. As investors continue to seek safety in Treasuries, the 10-year could move past its intraday record low of 1.671%, hit on Sept. 23, 2011.
Though the U.S. economic calendar is light next week, investors will also be taking cues for the latest reports on the housing markets. The weekly jobless claims number will also be in focus, as well as the final reading on consumer confidence for May from the University of Michigan.
On the corporate front, Facebook's (FB) first full week on the stock market will be watched closely. The social media giant's debut was highly anticipated, but shares ended just 0.6% above their offering price on the first day of trading.
Though a bulk of U.S. companies have reported quarterly earnings, a few major companies are on deck to open their books, including PC makers HP (HPQ, Fortune 500) and Dell (DELL, Fortune 500).