Financial Markets Buoyant Ahead of ECB Meeting - NASDAQ
Financial markets were in a buoyant mood early Wednesday with the euro rising strongly against the dollar, stocks strongly up in positive territory and euro-zone "peripheral" yields steady ahead of the European Central Bank's rate setting meeting later in the day.
Investors are hoping for some action from the central bank after the crisis in the euro zone has worsened in recent weeks.
Spain's borrowing costs have risen sharply with its banking sector looking increasingly vulnerable and there is still a big question mark over the political situation in Greece as the June 17 general election looms.
In addition, traders say the U.S. Federal Reserve may also introduce a round of fresh stimulus measures. A report in The Wall Street Journal said that disappointing economic data, weak financial markets and the ongoing European crisis have made policy action at the central bank a possibility once again. However the Fed's next meeting on June 19 and 20 could be too soon for decisive action.
But most economists have maintained their forecasts that the ECB will not change its policy response or key rate.
"The ECB is unlikely to see a rate cut as an effective response to the problems of the periphery, with any rate cut in future likely to be triggered by weakness in Germany and the rest of the "core" countries," said Lloyds Bank. Nor does it see another long-term refinancing operation as likely at this stage.
But investors are thinking otherwise and at 0815 GMT, the benchmark Stoxx 600 index was up 1.4% at 237.81. Germany's DAX increased 1.4% to 6053.48 and France's CAC-40 gained 1.4% to 3028.85. The U.K.'sFTSE 100, which re-opened after the Jubilee public holiday, was 1.2% higher at 5321.98.
In foreign exchanges, the euro gained against the dollar as investors hoped the ECB would take fresh easing action later to calm recent market jitters. At 0815 GMT the euro was $1.2518 compared with $1.2452 late Tuesday in New York.
Bank stocks were up in Europe with the Stoxx 600 index 2.4% higher at 124.62. Even German banks made some solid gains despite Moody's Investors Service lowering its investment-grade ratings on six German banks by one notch. The ratings firm pointed to increased risk of further shocks from the euro-zone sovereign crisis for the change. Moody's also lowered its investment grade ratings on Austria's three largest banks. However, Commerzbank--one of the banks that was downgraded--was up 2.0%.
The move by Moody's is part of its ongoing review of over 100 European banks so it was anticipated by the markets.
Amongst individual stocks, Lloyds Banking Group gained 4.4% after selling an GBP809 million package of Australian corporate real-estate loans. The package was sold to AET SPV Management Pty Limited, a joint venture comprised of funds sponsored by a Morgan Stanley real-estate investment fund and Blackstone Group.
Elsewhere, Dutch retailer Royal Ahold NV fell 3.1% after it posted a slight fall in its first-quarter net profit as intense price competition weighed on margins. Royal Ahold gets most of its revenue from the U.S. where it operates the Stop & Shop and Giant chains.
Asian equity markets rose Wednesday. Japan's Nikkei gained 1.8%, helped by a weakening yen, Hong Kong's Hang Seng Index increased 1.3% while Australia's S&P ASX 200 ticked up 0.3%.
Earlier, data showed that Australia's average measure of gross domestic product in the first quarter rose 1.3% on the quarter and 4.3% on the year. Economists on average had expected GDP to rise 0.7% on the quarter and 3.4% on the year.
The China Shanghai Composite slipped 0.1%. South Korea is closed for a holiday.
In other asset classes, the July Nymex crude futures contract was up $1.00 at $85.29 and the July Brent futures contract was up $0.90 at $99.74. Spot gold was $7.30 higher at $1,635.10. The September bund was down 0.57 points at 144.29.
The Spanish 10-year Spanish government bond yield was down two basis points at 6.324% and the Italian 10-year bond yield was down one point at 5.61%, reflecting the more positive mood in the financial markets.
The second release of euro-zone first-quarter GDP is at 0900 GMT and German industrial production at 1000 GMT. The ECB's rate announcement is at 1145 GMT and a press conference hosted by the ECB's president Mario Draghi follows at 1230 GMT.
Write to Andrea Tryphonides at andrea.tryphonides@dowjones.com
    (END) Dow Jones Newswires   06-06-120305ET   Copyright (c) 2012 Dow Jones & Company, Inc. 
Dollar's drop unleashes stocks, gold - MSN Money
The foreign exchange market, one of the most volatile and unpredictable areas of speculation, continues to drive the fortunes of stocks, commodities and pretty much everything else. With the dollar dropping hard and the euro rising Wednesday on reports that Europe is prepping a way to push capital into Spain's beleaguered banks, risky assets, especially dollar-sensitive precious metals, are blasting higher.
Such are the consequences of a pullback by retail investors and a rising domination of hedge fund types and high-frequency computer trading algorithms. No matter -- we can use it to our advantage.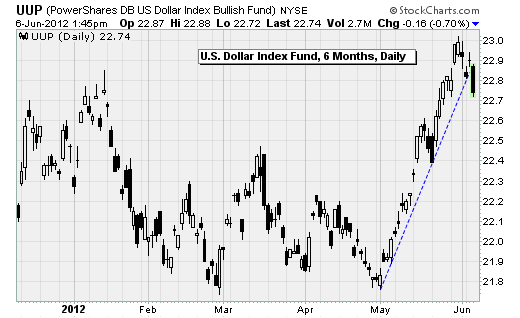 First, the details. This morning's policy announcement from the European Central Bank was a dud, with no new actions hinted as the institution remains worried about lingering inflationary pressures.  But this was eclipsed by multiple reports that Europe is frantically cobbling together a possible solution to the Spanish banking problem. According to RBS estimates, with borrowing costs rising fast, Spain needs nearly $600 billion in assistance just to get it through 2014 as it battles with the legacy of an epic housing bust and bad mortgages.
But Spanish leaders, mindful of their too-big-to-fail status within the eurozone, are pushing back against Germany's insistence that they follow Portugal, Ireland and Spain into the arms of an international bailout administered by the International Monetary Fund, the ECB and the European Union. Instead, Spain wants the E.U. bailout funds to bolster its banks without requesting a formal bailout.
The stalemate seems to be breaking in Madrid's favor.
According to reports, German official believe the bailout funds would be used for direct bank assistance in exchange for a say on executive strategy and management. The kicker is that if it all goes sideways, the home state would be on the hook for any losses. The good news is the assistance would not be added to Spain's sovereign debt levels and could help break the cycle of weak banks, higher government debt, higher sovereign borrowing costs, and even worse banks as their government bonds lose value.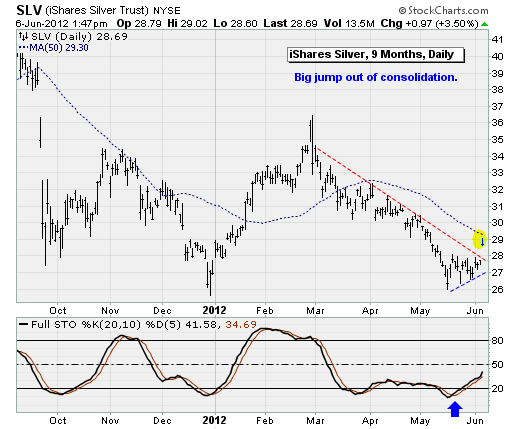 With Europe finally taking constructive steps after a lot of foot dragging, traders are rushing to close extended short-euro/long-doll​ar trades. And that's benefiting a whole range of assets with gold, silver and the related mining stocks leading the way, as I've been expecting since I warned about the dollar last week. The Edge Letter Sample Portfolio was well positioned for this, with Great Basin Gold (GBG) up more than 21% and the Velocity Shares 3x Silver ETF (USLV) up more than 15%.
New areas of strength include emerging-market stocks and semiconductors. I'm adding new positions in these areas to the portfolio.
The short-euro/long-doll​ar trade got very extended, so look for this dynamic to continue for at least the next week and a half heading into the next round of Greek elections on June 17. Then we have a G-20 meeting in Mexico on June 18-19. And, finally, a big eurozone summit on June 28-29.
I plan on booking profits and moving largely to cash ahead of those events.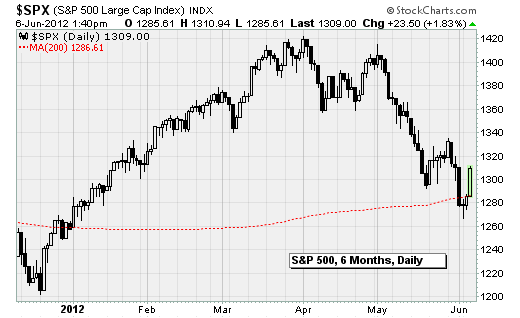 Technically, the S&P 500 has popped back over its 200-day moving average. Normally, a retaking of this oft-cited line of demarcation between bull and bear phases would be considered a sign of strength. But history suggests otherwise.
According to the folks at Sundial Capital Research, since 1928 there have been 19 times when the S&P 500 was above its 200-day for several months, dropped below, then popped up again. Only four of those events went longer than a month before shares dropped back below the 200-day.
On average, it took the index only five days and an additional 0.7% rally before it gave it up and fell away again.

Trading update
Two new, leveraged ETF positions are being added to the Edge Letter Sample Portfolio: The Direxion 3x Emerging Market Bull (EDC) and the Direxion 3x Semiconductor Bull (SOXL). Less aggressive options include the unleveraged iShares Emerging Markets (EEM) and the Market Vectors Semiconductors (SMH).
I am also covering my two regional bank shorts.

Check out Anthony's investment advisory service The Edge. A two-week free trial has been extended to MSN Money readers. Click here to sign up. Contact Anthony at anthony@edgeletter.c​​om and follow him on Twitter at @EdgeLetter. You can view his current stock picks here. Feel free to comment below.

Stocks Hold Onto Gains In Late Trading; Coinstar Jumps - Investors Business Daily
Stocks held onto most of their gains late Wednesday after the Federal Reserve said the U.S. economy continued to expand at a moderate pace and European officials reportedly discussed rescuing Spain's teetering banks.
The Nasdaq, S&P 500 and the Dow Jones industrial average were all up 1.8%. Volume was higher compared with the same time Tuesday.
The U.S. economy "expanded at a moderate pace" from early April to late May, the Federal Reserve said in its beige book, a snapshot of conditions nationwide. The assessment, which was little changed from the previous beige book, suggested that the world's biggest economy remained resilient despite Europe's growing economic and financial troubles.
Earlier, German and EU officials discussed ways to resolve Spain's banking crisis, according to unidentified European Union officials quoted by Reuters. Financial troubles in Europe's fourth-largest economy threaten to further destabilize the 17-member eurozone.
Almost all IBD 50 stocks were higher in late afternoon trading amid hopes that Germany and the EU will step in to rescue the currency block.
Coinstar (CSTR), the operator of Redbox DVD rental kiosks, gapped up 5% in heavy volume after announcing a partnership with Starbucks (SBUX) to sell coffee in "Rubi" kiosks at grocery chains, drugstores and elsewhere starting this summer. The stock briefly topped its 50-day moving average, where it has met resistance.
Starbucks was up more than 2% as it tries to form a new base. It has also met resistance at its 50-day line.
Ulta Beauty (ULTA) soared 9% in big volume after a Robert W. Baird analyst raised the stock's price target to 110 from 105. The stock appeared to be breaking out of a base, but the handle is in the lower half of the pattern, and the base itself has formed mainly below the 50-day moving average. Ulta reported late Tuesday its Q1 EPS climbed 46% to 54 cents, a penny ahead of views. Sales rose 23% to a better-than-expected $474.1 million and after-tax margins climbed to a record 7.3%. Management raised second-quarter EPS guidance to 49-51 cents, above forecasts. It guided sales to $466  million to $473 million vs. estimates for $467.4 million.

Meanwhile, Israeli chip designer Mellanox (MLNX) jumped 7% in double its average daily volume, popping above resistance at 60 as it forms a base.
Facebook (FB), whose troubled IPO sparked investor anger, climbed 1% after Nasdaq said it would set aside $40 million to compensate clients affected by glitches during the stock's March 18 debut. The payments will be made over the next six months pending approval by regulators.
Discount retailer Dollar General (DG) climbed 4% in huge trade, putting it just below a 48.86 buy point in a square-box base. The company said it will sell 30 million common shares in a secondary offering at 46.75. Dollar General won't profit from the sale because the shares are being sold by existing shareholders.
Financial advice? Just ask Arlington - Irish Central
Irish Central Community News is pleased to continue with our bi-weekly financial column, courtesy of Sean O'Sullivan of Arlington Financial
Irish Central Community News is pleased to continue with our bi-weekly financial column, courtesy of Sean O'Sullivan of Arlington Financial. This time around Sean tackles FHA Loans.
FHA loans have been helping people become homeowners since 1934. How do they do it? The Federal Housing Administration (FHA) – which is part of HUD – insures the loan, so your lender can offer you a better deal.
• Low down payments
• Low closing costs
• Easy credit qualifying
No minimum credit score – FHA does not have a minimum credit score requirement. The FHA underwriter will evaluate the entire credit profile to determine the borrower's likelihood of repayment. Past credit issues may be overlooked if new credit has been re-established. Also, other compensating factors may apply. For example in place of conventional credit, alternate credit references are accepted, normally four references for 12 months or more. Alternate credit would be for example utility references from your electric, gas, oil, home phone, cell phone, car insurance, cable TV suppliers, etc.
• Bankruptcy okay – Chapter 7 bankruptcies are allowed if discharged over 2 years ago (or 1 year with extenuating circumstances). Chapter 13 bankruptcies are allowed with a minimum of 1 year of on time plan repayment and trustee approval.
• Little Money Needed - FHA loans allow the seller to pay up to 6% of the sales price toward the closing costs. On 1 to 4 family units and Condo's, your down-payment can be as little as 3.5% of the purchase price.
• Housing History– FHA does not require a rental or other housing history if it is not available.
• Non-occupying co-borrower allowed – FHA allows a non-occupying relative to co-sign the mortgage. The non-occupant's income and assets can be used for qualification purposes.
• Want a fixer-upper? - FHA has a loan that allows you to buy a home that's in poor condition, fix it up, and include all the costs in one loan. Or, if you own a home that you want to re-model or repair, you can refinance what you owe and add the cost of repairs - all in one loan.
• Property types – 1 to 4 family units, condos, town homes, modular homes, and manufactured homes. Unfortunately Co-op's are not allowed.
• No cash reserves required – Unlike most conventional loans, FHA does not require you to have cash reserves on 1 to 2 family unit properties. However, having reserves can help strengthen the overall credit profile.
For any additional information, or questions regarding other subject matter, contact Sean O'Sullivan at Arlington Financial. Phone: 914-793-1122, email: Info@ArlingtonFinancial.com
​
Stocks, gold and oil rally on stimulus hopes - Citywire.co.uk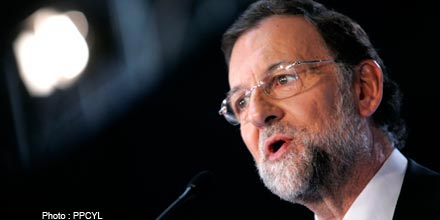 16.18: The FTSE 100 has risen to 5,375.96 - a 115.77 point gain, or 2.20% rise - as the European Union (EU) edges closer towards a banking union and as the likelihood of quantitative easing grows stronger.
The European Commission has put forward sweeping powers that would allow regulators to intervene to prevent widespread collapses.  Although the plans, if approved, would not come into force until 2015, they have given investors confidence that panic can be contained in the event of a bailout.
Stocks and commodities have also gained strength on stimulus hopes.  Earlier today, investment bank Morgan Stanley said it expected the Bank of England to restart its QE programme this week with a £50 billion cash injection, and leaders in Germany are said to be searching for an urgent solution that could help Spain accept aid without the associated stigma.
Mario Draghi, the European Central Bank (ECB) president, quashed some of this optimism, however, by ruling out another long-term refinancing operation (LTRO).  Brent crude still embarked on a rally above $100 a barrel, while gold rose 1%.
13.52: The US is set to open higher as investors pin their hopes on a speech by Mario Draghi offering some form of solution to the eurozone's woes.
As the FTSE 100 held firm at 5,311.50, up 51.31 points or 0.98%, Dow Jones futures pointed to a gain of 26 points at the sounding of Wall Street's opening bell.
The European Central Bank (ECB) earlier today said it would hold rates constant at 1%. and president Draghi will follow up on this announcement when he appears for his routine press conference later today.  It is hoped Draghi will signal that some sort of rescue plan is in the pipeline, following reports that Germany has been working with European Union officials to draft a solution to help Spain's banks.
08.30: The FTSE 100 has inched higher on its first day's trade following the Bank Holiday weekend, with the index rising to 5,307.96, up 47.77 points or 0.91%.
Although events in the eurozone are once again set to dominate the agenda, European shares gained during early morning trade.  The single currency also pulled off its two-year low to rise 0.4% to $1.2490.
07.55: European markets, including the UK, are tipped to rise when trading begins in a few minutes amid hopes that Spain's appeal for aid for its banks will focus the minds of authorities in Europe. Attention is fixed on what response the European Central Bank will make when it meets today to the warning yesterday from Spain's prime minister that it faces a situation of 'extreme difficulty'.
PRESS DIGEST - Financial Times - June 7 - Reuters
Thomson Reuters is the world's largest international multimedia news agency, providing investing news, world news, business news, technology news, headline news, small business news, news alerts, personal finance, stock market, and mutual funds information available on Reuters.com, video, mobile, and interactive television platforms. Thomson Reuters journalists are subject to an Editorial Handbook which requires fair presentation and disclosure of relevant interests.
NYSE and AMEX quotes delayed by at least 20 minutes. Nasdaq delayed by at least 15 minutes. For a complete list of exchanges and delays, please click here.
Stocks, commodities and euro soar - Financial Post
World stocks soared 2 percent and the euro rallied on Wednesday on talk major central banks would act to bolster a slowing global economy.
Brent crude jumped above $100 a barrel, while gold hit a one-month high, leading a broad rally in the commodities sector. Silver soared 4 percent and copper gained 2 percent.
Analysts said markets were reacting to hints of more monetary accommodation from both the European Central Bank – though ECB President Mario Draghi dashed hopes of near term action – and the U.S. Federal Reserve.
U.S. stocks rallied and analysts said the market was ripe for a bounce back after a drop of more than 6 percent in the S&P 500 for May on fears the euro zone crisis was escalating.
Prices on U.S. Treasuries fell for the third day in a row after the benchmark 10-year yield hit an historic low last week.
"Markets have moved a lot and valuations in stocks and a number of the credit sectors are compellingly cheap and the valuation argument for Treasuries and bunds is very thin," said Robert Tipp, chief investment strategist for Prudential Fixed Income with $330 billion in assets under management. "If the Fed and the ECB offer reassurances that they will protect the system, you're likely to see higher stock prices and higher yields."
The European Central Bank resisted pressure to provide immediate support for the euro zone's ailing economy by holding interest rates steady at 1 percent. But in a later statement Draghi noted "increased downside risks to the economic outlook" and saw annual inflation falling below 2 percent in early 2013. The comments supported hopes for more accommodation down the road.
A similar tone was struck by Atlanta Fed President Dennis Lockhart who said the U.S. central bank may need to consider additional monetary easing if a wobbly U.S. economy falters or Europe's troubles generate a broader financial shock.
Fed Chairman Ben Bernanke testifies before the U.S. congressional Joint Economic Committee on Thursday and could provide hints on the possibility of further monetary easing. The Group of 20 economies is scheduled to meet later this month.
"We could well see easing taking place throughout many of the G10 countries," said Ian Stannard, an executive director at Morgan Stanley.. "We believe that quantitative easing from the Fed is also very much back on the table."
Markets were also supported by signs of urgent moves by Germany and the European Union to find ways to rescue Spain's troubled banks.
Spain, the euro zone's fourth-biggest economy, said on Tuesday it was effectively losing access to credit markets due to prohibitive borrowing costs.
"The bounce-back we are seeing over the last two days and today in particular really does make one think we've got the worst of the selloff behind us," said Peter Kenny, managing director at Knight Capital in Jersey City, New Jersey. "Keep in mind, although a rally of this type is welcome, nothing has significantly changed."
The Dow Jones industrial average was up 228.19 points, or 1.88 percent, at 12,356.14. The Standard & Poor's 500 Index was up 24.98 points, or 1.94 percent, at 1,310.48. The Nasdaq Composite Index was up 61.65 points, or 2.22 percent, at 2,839.76.
Canada's S&P/TSX composite index was up 130.36 points, or 1.13%, at 11,638.07.
The MSCI World Equity Index jumped 2.1 percent for its biggest daily gain since December. The pan-European FTSEurofirst 300 index rose 2.2 percent.
The euro gained 0.9 percent to $1.2564, well off the near two-year low of $1.2286 set on Friday, as a broad rally in risky assets sent investors scrambling to cover bets against the currency.
"Europe closed and there was a squeeze," said said Boris Schlossberg, director of FX Research at GFT in Jersey City, New Jersey.
The dollar rose 0.4 percent to 79.05 yen.
Brent crude surged to an intra-day high of $101.39 a barrel before easing to $101.20, up $2.36. U.S. crude climbed $1.64 to $85.93.
Gold rose more than 1 percent to $1,637 an ounce.
Demand for safe-haven government debt fell. The benchmark 10-year U.S. Treasury note was down 25/32, the yield at 1.6575 percent.
Prices of German Bund futures also fell. Despite the rally in riskier assets, Germany was able to sell 3.98 billion euros of five-year government bonds at a record low yield of 0.41 percent as investors remained nervous about Spain's banks and the possibility of Greece leaving the euro.
© Thomson Reuters
Bosque Financial Supporting Allianz Women, Money, And Power - PRLog (free press release)
PRLog (Press Release)
-
Jun 06, 2012
-
More than half of all women want to learn more about retirement planning and entry-level saving and investing, according to the latest "Women, Money and Power" study released by Allianz Life Insurance Company of North America. While one in three women are eager to strengthen their financial planning skills, many are not sure where to begin.
Allianz commissioned the Women, Money and Power Phase II study to examine two key questions: what women want to learn about finances and how they want to learn it. It found that while the Internet is the most consulted resource, it is the least trusted. Human contact remains "the most meaningful and effective" source of information. In fact, 50 percent of women prefer "a person telling me" versus "reading about" something.
"The financial services industry has a tremendous opportunity to make long term and lasting changes that will benefit women today and in the future," said Sherri DuMond, vice president of Marketing Solutions for Allianz. "As a result of these findings, Allianz is continuing to help financial professionals connect with women in a way that addresses their concerns and help them achieve their financial goals and objectives."
Key topics: retirement planning, entry-level saving & investing
The study identified the financial planning topics women want to learn about most. The top five subjects include:
Planning for retirement/maintaining lifestyle in retirement  
54 percent
How to start saving or investing on very little income
53 percent
Basics of buying smart (savy shopping, buying vs. leasing, etc.)
46 percent
How to select the right insurance products (life, long-term care)
41 percent
Definition of basic financial terms (IRAs, annuities, mutual funds)
40 percent
Single women with children were overwhelmingly interested in planning for retirement, with 68 percent saying it was a topic of interest. In addition, 47 percent of that group was interested in how to buy or select the right insurance products, and 49 percent wanted to learn the definitions of basic financial terms. Single women were particularly interested in educating themselves. Forty-five percent of single women with children and 55 percent of single women without children expressed interest in learning about financial planning. Divorced women were also above the group average, at 42 percent.
Human contact most preferred source -
When asked where women first turn for financial information, the Internet was most frequently cited (46 percent) compared to family members (34 percent), financial advisors (30 percent), banks (26 percent) and friends (22) percent. But when asked to rank effectiveness, the Internet plummets to number twelve, behind sources such as advisors, family members, friends, seminars, magazines, and television.
"This study is significant because it offers solutions to concerns women have with financial planning," said Arika Larson, the owner of Women Be Wise, a San Jose company dedicated to teaching women financial planning. "Women and men think about money and savings in completely different ways, so it is helpful to better understand these customers, who are poised to control 60 percent of the nation's wealth by 2010." Larson is an independent agent with Allianz.
Women Feel Overwhelmed By Materials and Language -
Difficulty in understanding financial information is a critical barrier for many women, the Allianz study found. When asked about their financial planning concerns, women responded:
Information is overwhelming/ too much/ hard to sort through
44 percent
Information is complicated or hard to understand
36 percent
Materials are really boring and dry
32 percent
Don't understand terminology/ materials seem foreign
26 percent
Despite their reservations, more than one in three respondents – 35 percent – said they were very or quite a bit interested in learning about financial planning, retirement planning and investment decisions.
Allianz takes next steps-
Based on the study findings, Allianz is taking several steps to help financial professionals connect with women and help them to meet their financial goals. These steps include:
Expansion of educational efforts targeted at women
Delivering content through human contact whenever possible
Addressing the need for early education, helping young women and mothers to freely discuss finance with each other or their children
Designing highly relevant seminars and materials that utilize real-life success stories
Creation of breakthrough materials that are clear
"I'm excited about this opportunity to really take a look at what women need from a financial services company," said Tom Burns, senior vice president and chief distribution officer. "This study represents a clear opportunity for Allianz and the financial services industry as a whole to break the cycle of women's hesitance to be involved in financial planning."
About the study-
Larson Research conducted a telephone study among a national probability sample of 1,443 women between the ages of 25-75 with an annual household income above 30,000 US dollars. In addition, 21 focus groups in five large U.S. markets were conducted. The sampling was based on the most recent U.S. Census data.

As with all content published on this site, these statements are subject to our Forward-Looking Statement disclaimer, provided on the right.
For further information›Women, Money and Power or to have a presentation in Texas at your next event call (888) 300-3133