U.S. targets financial abuse of elderly - Los Angeles Times
WASHINGTON — Federal regulators launched an investigation into the financial abuse of the elderly, citing a new report that advisors, planners, family members and others were ripping off seniors more than ever.
Americans over 60 lost at least $2.9 billion in 2010 to financial exploitation — ranging from simple home repair scams to complex insurance swindles. That figure was up 12% from 2008, according to a study released Thursday by MetLife Mature Market Institute, the National Committee for Prevention of Elder Abuse and Virginia Tech University.
The rise in abusive tactics led the Consumer Financial Protection Bureau to begin looking into the types of scams affecting older Americans and coming up with the best ways to prevent them. A specific focus will be on the credentials of people who tout themselves as financial advisors.
"The silent crime of financially exploiting the elderly is widespread, and it is devastating. It is critical for us to act," Richard Cordray, the agency's director, said at a White House forum Thursday ahead of World Elder Abuse Awareness Day.
"The generation that rebuilt and sustained this nation out of a devastating Depression, the dark hours of World War II and the anxious fears of the Cold War deserve our care now," Cordray said.
Tougher oversight by regulators is needed to prevent financial predators from preying on vulnerable elderly victims, said Patricia L. McGinnis, executive director of California Advocates for Nursing Home Reform, a San Francisco group that often deals with financial abuse.
"The bottom line is, you need to go after the predators. You need to punish them and you need to convict them," she said. "Put them in jail and make an example of them, but more importantly, get the money back for that victim. Make them whole again."
McGinnis described efforts by regulators and advocates to prevent the scamming of older Americans as a game of Whac-A-Mole.
A recent scam enticed senior citizens to put large amounts of savings into deferred annuities, reducing their savings to qualify for a particular federal veterans benefit. The veteran might get $1,000 a month from the benefit, but loses access to the cash for years. Meantime, the annuity salesperson earned a commission of 8% to 12%, she said.
Victims often are reluctant to fight back.
"I can't tell you the times I talk to people and they say, 'It was my own fault,'" McGinnis said. "They are very embarrassed."
The scams have increased as the economy has struggled. Survey results released this week by the nonprofit Investor Protection Trust found that 84% of experts who deal with financial exploitation of the elderly said the problem has worsened.
But there is a lack of comprehensive information on the problem, which the consumer bureau's inquiry could help solve, said Elizabeth Costle, director of the consumer and state affairs team at the AARP Public Policy Institute.
Financial predators often target the elderly because they are viewed as gullible, Cordray said.
"Many seniors have routines, and their predictable patterns make them easier targets for predators," Cordray said. "Abusers often assume that the victim will be too embarrassed or too frail to pursue legal action against them, and unfortunately that assumption is too often proven to be correct."
The agency's inquiry seeks comments from the public on several issues. They include detailing the unfair, deceptive and abusive practices targeted at the elderly, finding the types of financial planning resources, and evaluating the credentials of financial advisors. The agency will be accepting public comments until Aug. 13.
Cordray said that some people who tout themselves as experts on elderly financial issues have had only a few hours of inadequate training.
"We need to distinguish between the true experts and those engaged in predatory conduct," he said.
The qualifications of financial advisors are important as new retirees must decide what to do with lump-sum 401(k) payouts and often must juggle many complex options, Costle said. The ability to understand those options gets more difficult as people age.
"As people get older, particularly up into their 80s ….they're just less able to process financial information," she said. "They're more likely to be trusting of people and they open themselves up to more abuse, which is perpetrated both by strangers and by caregivers and family members who are close to them."
Congress and the White House have increased their focus on the issue.
Lawmakers included the Elder Justice Act in the 2010 healthcare reform law to coordinate federal efforts. As part of the law, Health and Human Services Secretary Kathleen Sebelius on Thursday announced $5.5 million in grants to states to "test ways to prevent elder abuse, neglect and exploitation."
Gains in financial stocks push up European equities - Reuters UK
Fri Jun 15, 2012 9:09am BST
* FTSEurofirst 300 index rises 0.5 percent in early trade
* Financials stocks lead market rally
* Hopes that central banks deal with any Greek vote fallout
LONDON, June 15 (Reuters) - European shares advanced on Friday as financial stocks rose on expectations of new central bank measures to deal with the risk of a Greek exit from the euro zone.
The FTSEurofirst 300 index was up 0.5 percent at 987.46 points by 0745 GMT. Germany's DAX was up 0.9 percent, while France's CAC-40 index rose 1 percent.
Investors are wary ahead of elections in Greece on June 17, which could determine the future of the debt-ridden country in the euro zone currency bloc.
Officials from G20 nations told Reuters on Thursday that central banks were ready to take steps to stabilise financial markets, if needed, by providing liquidity and preventing any credit squeeze after Sunday's election.
The signal that world authorities were ready to take steps to prevent any worsening of Europe's debt crisis supported European financial shares on Friday, which have fallen sharply in recent weeks due to their exposure to Greece.
The STOXX 600 European bank index rose 1.6 percent, while the European insurance index gained by 1.3 percent.
However, Securequity sales trader Jawaid Afsar said he would be tempted to sell off shares later on Friday, in order to minimise any hits to portfolios in case of any unforeseen outcomes from the Greek election.
"If you're already in the rally, you should use the rally to start closing out your positions to reduce the risk ahead of Sunday," he said.
JN Financial trader James Fogden also said the European equities market rally could peter out later in the day, with an expiry of options contracts due at 1000 GMT also likely to make the trading session a volatile one.
"We could see a bit of a pull-back later," he said.
The FTSEurofirst has been within a tight trading range between 970 and 990 points established in early May, and traders said it was likely to remain in that range while uncertainty over the euro zone debt crisis persisted. (Reporting by Sudip Kar-Gupta; Editing by Louise Ireland)
Easy money won't sate hunger for real assets - Financial Times
Throwing money at banks won't solve economic crisis, Ed Balls says - The Guardian
Ed Balls has warned that an emergency multibillion-pound package to inject lending into the British economy still fails to address the lack of economic confidence and demand. The shadow chancellor said the Bank of England's thinking still seemed to be driven by Montagu Norman, the governor who led it through the depression of the 1930s.
He said the measures announced on Thursday night at the Mansion House in London by the chancellor, George Osborne, and the bank's governor, Mervyn King, should have been implemented two years ago and would not work if businesses were not investing.
Osborne warned that the "debt storm" on the continent had left the UK and the rest of Europe facing their most serious economic crisis outside wartime. In a joint proposal between the Bank of England and the Treasury, banks will receive cut-price funds, provided they pass on the benefits to their business customers.
This new "funding for lending" scheme could provide an £80bn boost to loans to the private sector within weeks and alleviate growing fears of a second slump since the start of the financial crisis in 2007.
In a second scheme, within the next few days the bank will begin pumping a minimum of £5bn a month into City institutions to improve their liquidity.
Balls told Sky News: "Simply giving the banks billions of pounds doesn't translate into loans to business. If business is not investing and creating jobs and if our economy is not growing, that's the fundamental problem, and I've said consistently for two years that you can't do this simply by throwing money at the banks.
"You've got to accept that the fiscal plans of the chancellor haven't worked, they've backfired, they've taken us back into recession."
Speaking on BBC Radio 4's Today programme, Balls compared the government's fiscal policy to the 1930s depression era: "It failed then and it's failing now".
He said the announcements were a clear sign that the bank was worried. He did not dismiss the injection of cash for lending in principle, but argued that fiscal, as opposed to monetary policy was critical to recovery, pointing out that, apart from Italy, the UK was the only country in the G20 in recession.
The government has described the plans as an attempt to stretch its "plan A" to the limit. There has been concern from some banks that the plan does not change the dynamic as they will be expected to take the risk on the loans.
The treasury minister Mark Hoban told Today that the government's fiscal tightening had had no impact on growth. He said taxpayers' money would not be at risk as a result of the £80bn bank credit scheme.
Conservative MP Andrew Tyrie, chairman of the Commons treasury select committee, welcomed the plans: "The measures look as if they will encourage lending to businesses by ensuring liquidity is more easily available to banks."
Balls said: "The Bank of England's new funding for lending scheme is a significant admission that the government's existing policies have failed. Businesses will be desperately hoping it is more successful than George Osborne's Project Merlin and credit-easing schemes which have actually seen net lending to businesses fall."
He said Osborne's speech was dangerously complacent. "He is sticking with policies that have choked off the recovery, pushed up unemployment and are leading to £150bn of extra borrowing."
Balls also attacked Osborne over his remarks about a possible Greek exit from the eurozone.
"I was at the Mansion House last night and there was a frisson around the room when our chancellor started openly talking about whether Greece should leave the eurozone. I do not think that is a very wise or sensible thing to do," he told BBC Breakfast.
"I think Greece has got to sort out its issues – and that is a matter for Greece. What I am really worried about in the eurozone is that countries like Spain or Italy – which are huge, to which we as a country are very exposed – they have not sorted out their problems.
"Unless we get a global growth plan going, including in the eurozone, you can't turn this round. I am afraid that our government seems to be urging the wrong actions in Europe as it takes the wrong actions here in Britain too."
The shadow chancellor pointed out that Osborne had "snuck out another U-turn" in his speech, in particular to the objectives of the new financial policy committee at the bank.
"Labour and business organisations like the CBI have been calling for the new financial policy committee to have supporting economic growth as one of its key objectives. The chancellor voted against our amendment on this but in the face of an imminent defeat in the House of Lords he has now backed down."
Travel money or pre-paid currency card: which is best? - The Guardian
Prepaid currency cards are, their promoters claim, safer than carrying cash, give holidaymakers better exchange rates and are cheaper than using a debit or credit card abroad. But beware the small-print charges that can soon wipe out any savings the cards may offer.
This week Guardian Money compared the main players in the prepaid card market. They can offer good exchange rates, but we also found some with add-on ATM fees and "inactivity" fees that for many people will make them more expensive than using traditional debit cards.
What are they?
Prepaid currency cards look just like a credit or debit card. They tend to be issued by specialist money changing companies, such as Travelex and Caxton FX, and allow you to preload money from your bank account on to the card, fixed at that day's exchange rate. Lots of people think that the current euro/sterling rate is attractive at around €1.24 to £1. But others think it might go to €1.30 – or it just as easily go back to €1.15. With a prepaid card, you get the rate on the day you convert your cash.
Getting hold of a card is easy for anyone with a UK bank account. You normally apply online, choose the currency in which you would like your card denominated, load it with funds from your current account and wait for it to arrive in the post: typically five to seven days later. You can top up and check your balance online, by phone or, in some cases, by text.
Do you get better exchange rates?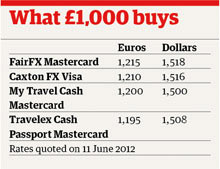 Yes and no. According to comparison site mytravelmoney.co.uk, prepaid cards beat airport currency exchange rates by 8% and those offered by bureau de changes and travellers cheques by 4%. The comparison with your bank is less easy. Most banks use the Visa exchange rate applicable on the day, and then add a loading. At Lloyds bank, for example, if you use your card to buy something in El Corte Ingles (Spain's largest department store group) while on holiday, the bank will use the Visa exchange rate of the day plus a 2.99% fee. Use the ATM outside El Corte Ingles and it charges the Visa exchange rate, plus 2.99%, plus 1.5% of the amount withdrawn, with a minimum of £2 and a maximum of £4.50. But some banks have cheaper deals: moneysavingexpert.com recommends using credit cards Halifax Clarity and Santander's Zero. These are cheaper than using any prepaid card.
Which prepaid card gives the best-value exchange rate?
We did not check all the prepaid cards, just the major ones, and we only took a snapshot on one day (Monday 11 June). But we found quite a difference. FairFX and Caxton FX gave us much better exchange rates than MyTravelCash or Travelex (see table). But note that the exchange rate is just one way to judge these cards – there can be other fees on top (particularly FairFX's ATM fee) which should come into your decision.
Will banks give you a better deal?
We checked the Visa rate for 11 June, and found that once the typical bank loading of 2.99% is added the prepaid cards were cheaper, but not hugely so. The main saving is not on purchasing but on withdrawing cash at ATMs.
What are the other charges?
Lots. Some have a start-up fee of around £10. FairFX charges a fee for foreign cash machine withdrawals of €1.50 or $2, so don't use this card as a substitute for a debit card at a foreign ATM. "Obviously it costs more to withdraw small amounts of cash regularly, so we advise paying by card as much as possible in shops and restaurants and making just one or two larger cash withdrawals while away," a spokesperson said.
The major drawback with prepaid cards is if you leave a balance on them, say for your next holiday. Don't do it: you may have money swiped off your balance as an "inactivity fee". Both My Travel Cash and Travelex charge a £2 monthly inactivity fee once a card has not been used for 12 months. FairFX and Caxton FX do not.
Holidaymakers who haven't spent all their balance while away will want to redeem the unused currency at the end of the trip. Again there's a catch; you'll be charged a redemption fee of £1.50 (Caxton FX), £10 (FairFX), £5 (My Travel Cash) and £6 (Travelex).
I'm going off these cards. What other advantages might they have?
There is no overdraft facility so you cannot run up a debt on them. This allows you to budget exactly for the amount of money you want to spend while away.
Prepaid cards are typically linked to the Mastercard or Visa network and are protected, like bank cards, by a chip and pin system. But, unlike bank cards, they are not connected to your bank account or credit card account. So, if lost or stolen, fraudsters cannot get access to your money beyond that loaded on the card.
The obvious advantage over carrying large amounts of cash is that if your card is lost or stolen and you report it immediately, you can get a replacement card with any unused funds transferred for free (Travelex) or a fee: £3 (My Travel Cash); £5 (Caxton FX); £6 FairFX.
But you should treat a currency card like cash in a wallet. It's up to you to guard it and keep your pin secret. You won't get stolen funds refunded if, for example, you wrote down your pin for a thief to find with your card.
My Travel Cash also pays a 1% cashback on purchases abroad.
So should I get one?
A card such as Santander Zero or Halifax Clarity is probably better than these prepaid cards, but only if you are sure you will pay the balance off at the end of the month and not incur interest charges.
If you are not so disciplined a prepaid card can be a good way to budget – but only if you use up the entire balance on holiday. Don't leave any cash on the card – that's how they'll make money out of you.
Liverpool owner John Henry plays down financial impact of new stadium - The Independent
The lead figure in Fenway Sports Group has suggested a new-build in Stanley Park would most likely lead to increased ticket prices, quoting recent examples taken from the United States.
Henry believes the best way of improving the Reds' ability to compete financially is through worldwide commercial revenue streams and their long-term future is not dependent on the stadium issue, which casts doubt over whether the long-mooted Stanley Park project will ever come to fruition.
"A long-term myth has existed about the financial impact of a new stadium for Liverpool," the American wrote in an email to The Anfield Wrap website.
"A belief has grown that Liverpool FC must have a new stadium to compete with (Manchester) United, Arsenal and others.
"No-one has ever addressed whether or not a new stadium is rational.
"New stadiums that are publicly-financed make sense for clubs - I've never heard of a club turning down a publicly-financed stadium.
"But privately carrying new stadiums is an enormous challenge. Arsenal is centred in a very wealthy city with a metropolitan population of approximately 14 million people.
"They did a tremendous job of carrying it off on a number of levels but how many new football stadiums with more than 30,000 seats have been built in the UK over the past decade or so?
"New stadiums increase revenues primarily by raising ticket prices - especially premium seating."
Henry accepts there is a balancing act to be done when considering the worth of a new stadium against a redevelopment of Anfield, which presents numerous logistical problems.
"We've been exploring a new stadium for the past 18 months. At one point we made it clear that if a naming rights deal could be secured of sufficient size, we would make every effort to build a new facility," he added.
"Liverpool FC has an advantage in being a global club and a naming rights deal could make a new stadium a reality.
"It is something we are working on. There has been interest.
"Going in the other direction, many football clubs have successfully enlarged their seating capacity.
"LFC has had plans to expand the main stand at Anfield but this avenue has been very difficult for the club over the past couple of decades.
"There are homes behind the main stand. Expansion of the main stand would have to be a priority for the city, community and immediate neighbourhood in order for that to occur.
"This issue is vital to the neighbourhood's future but we cannot and will not act unilaterally.
"While a new stadium or an expansion of Anfield is beneficial over the long-term for the club, the financial impact of adding seats and amenities should be put into perspective.
"That's why I say that it is a myth that stadium issues are going to magically transform LFC's fortunes.
"Building new or refurbishing Anfield is going to lead to an increase from £40million of match-day revenue to perhaps £60-70m if you don't factor in debt service.
"That would certainly help but it's just one component of LFC long-term fortunes.
"Our future is based not on a stadium issue but on building a strong football club that can compete with anyone in Europe.
"This will be principally driven financially by our commercial strengths globally."
PA
Morning business round-up: ECB ready to act 'if necessary' - BBC News
15 June 2012
Last updated at
06:59 ET
What made the business news in Asia and Europe this morning? Here's our daily business round-up:
Continue reading the main story
The European Central Bank (ECB) said it is ready to provide further support ''if necessary'' to the eurozone's banking system.
Its president Mario Draghi said: "The eurosystem will continue to supply liquidity to solvent banks where needed."
A general election in Greece on Sunday has heightened fears of further instability on financial markets.
Greece saw a major retailer, France's Carrefour, pull out of the country.
The French retail giant said it was selling its stake in its Greek joint venture owing to fears about Greece's deteriorating economic situation.
It is selling to partner Marinopoulos, and will take a financial charge of about 220m euros (£179m; $278m) on the deal.
In a statement, the company said the move was in response to "challenges posed by the Greek economic context".
Carrefour's shares rose 1.68% following the announcement.
Still in Europe, new EU car registrations slumped.
Demand for new passenger cars fell sharply across the European Union in May, reflecting weak consumer confidence in the wake of the financial crisis.
The European Automobile Manufacturers' Association said new car registrations totalled 1,106,845 vehicles, down 8.7% compared to the same month last year.
France led the decline with a 16.2% market contraction, closely followed by Italy, which fell 14.3%.
Only the UK market grew, rising 7.9%.
Meanwhile, in the UK, its central bank acted to try to boost confidence and lending against a backdrop of failing business nerve in the face of the eurocrisis.
UK bank shares jumped on the stimulus move.
The Bank of England's plan, announced late on Thursday, came in response to the worsening economic outlook, its governor Sir Mervyn King said.
Together with the government, it will provide billions of pounds of cheap credit to banks to lend to companies.
To Asia now, where Coca-Cola announced it would start business again in Burma.
It has been 60 years since it last operated there and its return follows a US decision to suspend investment sanctions against the country.
Officials suspended the sanctions last month as the country has moved towards democratic reforms.
Coca-Cola is waiting for a licence from the US government.
The country was one of only three that Coca-Cola does not do business with.
And as Burma opens up to international business, the latest Business Daily podcast reports from Rangoon, and asks if Burma is set to become a new Asian Tiger, or whether the legacy of 50 years of mismanagement is too great an obstacle.
Bank shares jump on new business support plans - BBC News
15 June 2012
Last updated at
12:16 ET
Bank shares jumped on Friday in the wake of plans from the Bank of England to launch two new stimulus packages.
The Bank of England's announcement on Thursday came in response to the worsening economic outlook, governor Sir Mervyn King said.
Together with the government, it will provide billions of pounds of cheap credit to banks to lend to companies.
Royal Bank of Scotland was the biggest riser, up nearly 8%. Lloyds rose 5.2% and Barclays 4.2%.
Banks will also have access to short-term money to deal with "exceptional market stresses". The chancellor said the measures would "inject confidence".
But Labour's shadow chancellor Ed Balls said the measure would not be enough to help without the Government also changing course on its austerity plans.
In his annual Mansion House speech, Chancellor George Osborne said the stimulus packages would "support the flow of credit to where it is needed in the real economy".
"We are not powerless in the face of the eurozone debt storm. Together we can deploy new firepower to defend our economy from the crisis on our doorstep," he said.
'Ugly picture'
Sir Mervyn, also speaking at Mansion House, said the eurozone debt crisis had pushed up funding costs in the banking sector, which in turn meant the cost of borrowing for businesses and individuals had risen.
The crisis had also created a "large black cloud of uncertainty" over the global economy, meaning companies and households were cutting back on spending.
Signs of a slowdown in China, India and other "previously buoyant emerging economies" added to the "ugly picture" and meant further action was needed, the governor said.
The Bank has already pumped £325bn into the economy through its quantitative easing (QE) programmes, under which it buys up government bonds. The idea is that the institutions that sell bonds to the Bank then use the money to buy up other assets.
However, there have been criticisms that they have held on to the money, rather than spending it, undermining the effectiveness of QE.
Separately, a Bank of England survey found that the risk of a foreign government failing to repay its loans, or a recession, were still, by a wide margin, the top concerns of senior City executives.
The bank's half-yearly "systemic risk survey", of 73 banks, building societies, insurers and other financial institutions, found that these were still identified as the the two top risks to the health of the UK financial system.
Continue reading the main story
Analysis
It may not be Plan B - but Plan A is undergoing some fairly significant remedial work.
In the wake of the billions poured into the economy through Quantitative Easing and Credit Easing, we now have two new schemes designed to pump yet more cash into UK plc.
It underlines just how alarmed ministers have become over the unfolding eurozone crisis.
What has added to the concern is the pace at which the crisis now appears to be unfolding.
One Treasury minister noted that on Monday morning, everyone was relatively upbeat following the emergency bailout for Spanish banks. By Monday evening, everyone had been plunged into gloom once more after the markets gave the latest deal the thumbs down.
The Treasury view is that there is now a dangerous mismatch between the pace at which the markets are moving and the arthritic response of eurozone leaders.
The big fear? That not only does a eurozone meltdown risk snuffing out any UK recovery, but it risks consigning the British economy to years in the economic doldrums.
Cheap loans
Rather than further QE to stimulate the economy, the Bank will now offer cheap loans to banks on the basis that they increase lending.
"Today's exceptional circumstances create a case for a temporary bank funding scheme to bridge to calmer times," Sir Mervyn said.
Sir Mervyn added that the 'funding for lending' scheme would provide funding to banks for an extended period of several years, at rates below current market rates and linked to the performance of banks in sustaining or expanding their lending.
But Mr Balls told the BBC that the measure won't work - because Mr Osborne's approach to the economy had been flawed from the beginning: "If you fundamentally think that the reason why our economy is stalled is simply because of the supply of credit to banks you might think you could sort this with monetary policy.
"The reason it's happened in Britain so much harder than other countries is because of the fiscal crunch the chancellor imposed on the economy two years ago, which has choked off our recovery before the eurozone crisis."
The move was not wholly embraced by business.
Graeme Leach, the chief economist at the Institute of Directors, said: "The extended liquidity and funding for lending schemes are welcome, but limited.
Continue reading the main story
CASE STUDY
Ian Roos, owner of Scarlett Fuel Solutions, Colchester, Essex
We're a small growing business which cleans out contaminated fuel, for instance from petrol stations, airports, power generators. We've been going for 11 months, trading for six months and we've nine employees. We couldn't get any affordable funding from the banks so we had to turn to Wonga, the payday lender. We borrowed £8,000 over 16 weeks. We'll pay back £9,400. If you work out the APR, it's something like 1,600%, but you can't look at it based on the APR because you only have it for a few weeks, you only pay the interest on the capital for those few weeks.
In principle, it [the government initiative] sounds fantastic; in practice, I'm far more pessimistic about it. The amount of money being offered, considering the number of small businesses there are, is really, really small. And the reality is we have no clear evidence that it will filter down to us. Previous schemes haven't. Banks were not willing to take the risk to invest in us and I can't see this changing that. I've not met one bank manager who's said, "Well, I'll help you get that government guarantee."
Bank lending plan: How will it work?
"The liquidity scheme will need to be massively expanded if break-up and contagion spread across the eurozone... But the core problem remains. Companies alarmed by the euro crisis will not be eager to borrow regardless of the cost."
Peter Hann, banking expert at the Cass Business School, said the measures would have been better applied shortly after the banking crash of 2008, adding that "right now, in a time of weakening confidence, changing confidence is not going to happen just by easing money".
The BBC's business editor Robert Peston said the scheme would be seen as successful if it increased bank lending by £80bn, or 5%.
The governor said he hoped the scheme would be in place "within weeks".
Banking sector liquidity
The second measure he said the Bank would be introducing was a scheme outlined in December last year - called the Extended Collateral Term Repo Facility - to address a shortage of liquidity in the banking sector.
This will make it easier and cheaper for banks to borrow at least £5bn every month to cover any shortfalls in cash.
Further details of the short-term liquidity scheme would be announced on Friday, he said.
Conservative MP Andrew Tyrie, chairman of the Commons Treasury Select Committee, said the plans looked encouraging: "The measures look as if they will encourage lending to businesses by ensuring liquidity is more easily available to banks."
Ex-Business Titan Rajat Gupta Guilty of Insider Trading - Daily Finance
By Grant McCool and Basil Katz
NEW YORK -- Rajat Gupta, a consummate business insider who once sat on the board of Goldman Sachs Group, was convicted on Friday of leaking secrets about the investment bank at the height of the financial crisis, a major victory for prosecutors seeking to root out insider trading on Wall Street.
The Manhattan federal court jury delivered its verdict on its second day of deliberations, finding that Gupta had fed stock tips to his hedge fund manager friend Raj Rajaratnam, which he had gleaned from confidential Goldman board meetings.
Gupta is also a former director at Procter & Gamble and a former executive at the elite business consulting firm McKinsey & Co. He is the most prominent person convicted in the government's crackdown in the last few years on illicit trading involving hedge funds and financial consultants.
The 63-year-old Gupta was found guilty of three counts of securities fraud and one count of conspiracy. The jury acquitted him on two other securities fraud charges.
He could receive up to 25 years in prison. The maximum sentence for securities fraud is 20 years and the maximum sentence for conspiracy is five years, though it seems unlikely that he would receive such a heavy punishment. Rajaratnam was convicted of 14 counts of securities fraud and conspiracy last year and is serving an 11-year prison term.
After the verdict, an ashen-faced Gupta glanced grimly back at his wife and four daughters in the courtroom. Later, the family stood hugging each other in the courtroom as Gupta tried to console his distraught daughters.
His defense lawyer, Gary Naftalis, said Gupta is likely to appeal.
Since being implicated in the Rajaratnam case more than a year ago, Gupta has denied the charges. In addition to his business background, the Indian-born Gupta was known for his work with philanthropies fighting AIDS, malaria and tuberculosis in developing countries.
"I wanted to believe the allegations weren't true," said Lepkowski, a nonprofit group executive from Ossining, New York. "At the end of the day, when all of the evidence was in, it was in my opinion, overwhelming."
Among the most dramatic contentions against Gupta was prosecutors' charge that he had told Rajaratnam about a crucial $5 billion injection into Goldman by Warren Buffett's Berkshire Hathaway at the height of the financial crisis.
Part of the prosecution's evidence was that within a minute of disconnecting from a Sept. 23, 2008 board call approving the investment, Gupta called Rajaratnam at his Galleon Group office in New York. Rajaratnam then hurriedly ordered his traders to buy as much as $40 million in Goldman stock because only minutes remained before the market closed.
At trial, Gupta's lawyers argued that prosecutors "had no real, hard, direct evidence" against Gupta, who did not take the witness stand.
U.S. District Judge Jed Rakoff has set sentencing for Oct. 18.
The case is USA v Gupta, U.S. District Court for the Southern District of New York, No. 11-907.