Asian Stocks Drop With Euro on Global Growth Concern; Oil Falls - Businessweek
Asian stocks and the euro declined amid concern Europe's debt crisis is dragging on global growth and as China pledged to keep curbs on its property market. Oil dropped from the highest level in nine weeks.
The MSCI Asia Pacific Index (MXAP) fell 0.6 percent at 12:41 p.m. in Tokyo as Japan's Topix (TPX) Index lost 1.5 percent for its 10th drop in 11 days. The Shanghai Composite Index retreated 0.4 percent and futures on the Standard & Poor's 500 Index slid 0.3 percent. The euro weakened against most of its 16 major peers and oil declined 0.7 percent. Corn rose 0.7 percent as a U.S. drought threatened supplies.
"For the market, the environment will continue to be quite challenging," Steven Sun, an equity strategist at HSBC Holdings Plc., said in a Bloomberg Television interview. "Central banks globally are easing monetary policy to lower financial market volatility and avoid downside growth risk."
China won't relax property control policies and will instead seek to keep a "firm grip" on the real estate market to prevent a rebound in housing prices, Xinhua News Agency said. At more than half of 760 listed Chinese companies to report results, net income declined from a year earlier, worse than in the first six months of 2009, Societe Generale SA said yesterday.
Earnings at U.S. companies have exceeded analyst estimates at about 71 percent of the 110 S&P 500 companies that have reported quarterly results so far, according to data compiled by Bloomberg. Profits are down 0.7 percent for the group.
IBM, GE
U.S. stocks rose for a third day yesterday as earnings at companies from International Business Machines Corp., the biggest computer-services provider, and EBay Inc., the largest Internet marketplace, beat estimates. General Electric Co., the world's biggest maker of jet engines, power generation equipment and health-care imaging devices, will release its results today.
The euro declined 0.1 percent to $1.2266 per dollar. It was little changed at 96.406 yen and set to complete a fourth weekly drop. The Australian dollar traded 0.3 percent from the highest level in 11 weeks.
The dollar and yen rose against most of their 16 major counterparts as the drop in Asian equities and weaker-than- forecast U.S. data boosted demand for safer assets. U.S. initial jobless claims were higher than estimated, and measures of manufacturing activity and sales of existing homes missed estimates, reports yesterday showed.
Toyota, Toshiba
About seven stocks fell for every four that rose on the MSCI Asia Pacific Index, which is headed for a third weekly advance in four weeks. Carmaker Toyota Motor Corp., which depends on North America for a quarter of its sales, dropped 1.4 percent. Toshiba added 0.7 percent after chipmaking partner SanDisk Corp. posted profits that topped analysts' estimates.
Hong Kong's Hang Seng Index (HSI) climbed 0.2 percent as China Unicom Hong Kong Ltd. and Tencent Holdings Ltd. advanced after mobile phones overtook desktop computers as the most popular Internet portals in China.
Oil traded at $92.06 a barrel after climbing to $92.66 yesterday, the highest close since May 16, on concern increased tension in the Middle East will threaten crude supplies. The Organization of Petroleum Exporting Countries, responsible for about 40 percent of global supplies, will curb exports by 0.9 percent to 23.78 million barrels a day in the four weeks to Aug. 4, compared with 24 million a month earlier, Oil Movements said yesterday in an e-mailed report.
Corn Gains
Corn for December delivery was at $7.84 a bushel on the Chicago Board of Trade after reaching $7.99 yesterday. The record for a most-active contract is $7.9925, reached on June 27, 2008. The U.S., the world's largest grower and shipper, is facing its worst drought in more than 50 years.
Severe to exceptional drought expanded to 48 percent of the Midwest as of July 17 from 33 percent a week earlier, the U.S. government said yesterday. World food prices tracked by the Food & Agriculture Organization will climb in July, according to Abdolreza Abbassian, an economist at the group.
To contact the reporters on this story: Glenys Sim in Singapore at gsim4@bloomberg.net;
To contact the editor responsible for this story: Nick Gentle at ngentle2@bloomberg.net
Iron ore stocks hit record high - China Daily
Iron ore inventories in China reached a record high of about 100 million metric tons due to shrinking downstream demand, but major global suppliers are still increasing output.
The 30 major ports in China have total iron ore stocks of 97.92 million tons, according to figures from mysteel.com, a steel industry information provider.
High stocks and declining prices have increased the risks for iron ore traders, who are facing increasing financial pressure to repay loans. Meanwhile, steel factories are more cautious when purchasing raw materials.
However, China still imported 58.31 million tons of iron ore in June, a slight decline compared with the 63.84 million tons imported in May.
"China has always played the role of savior of foreign iron ore miners," said Zhang Lin, senior analyst at the Lange Steel Information Research Center. "The steel market is weak, which leads to falling iron ore prices. However, the price is not below $100 yet."
China's stable imports of large quantities of iron ore may be the source of the foreign giant miners' confidence, Zhang said.
Rio Tinto Plc said on Tuesday that the company had a record-high output of 120 million tons of iron ore in the first half of the year, up 4 percent year-on-year. The company estimated that it will produce 250 million tons of iron ore in 2012.
BHP Billiton Ltd, another giant mining company, said on Wednesday that its iron ore output in June increased 15 percent to 40.9 million tons.
It said it will have a total output of 159 million tons this year, also a record figure for the company. BHP Billiton is making efforts to achieve its annual output target of 220 million tons in 2014.
Fortescue Metals Group, the third-largest Australian iron ore producer, said its output increased 54.7 percent to 19.16 million tons in the second quarter. The company plans to sell 55.8 million tons of iron ore in the 2011-2012 fiscal year, a 40 percent year-on-year increase.
As the largest iron ore importer in the world, 60 percent of China's consumption depends on imports. Brazil exports up to half of its iron ore production to the Chinese market. Last year, Brazil's iron ore exports to China increased 7.8 percent, while its exports to Europe decreased 20 percent.
Although the increasing iron ore output in the international market indicates foreign miners' confidence in China's economy, prices will not rebound, analysts said.
According to a report by LCA Consultancy, the international average iron ore price dropped 16 percent compared with last year to $140 a ton. However, it is still much higher than the $80 a ton registered in 2009.
The consultancy said the decline of iron ore prices is closely related to China's economy. The country's growth rate has dropped from an average of 10 percent in past years to 7 percent or 8 percent this year, which will influence iron ore demand and prices in the international market.
Iron ore prices passed $100 a ton in March 2010 and kept increasing to $175 in September 2011. However, because of the severe oversupply in the market in the fourth quarter of 2011 and also due to China's macro policies on the real estate industry, both the iron ore and steel markets have seen a declining trend since then.
Most listed steel companies in China reported losses for the first half of the year and some of them have lowered both their steel product prices and sales targets this year.
Wuhan Iron and Steel Group Co, one of the major steel producers in China, cut its full-year profit goal from 3 billion yuan to 1.6 billion yuan on Wednesday.
Deng Qilin, general manager of the company, said they made the adjustment looking at the expected factors in the second half of the year.
The company had revenues of 98.9 billion yuan and profits of 1.38 billion yuan in the first half.
dujuan@chinadaily.com.cn
(China Daily 07/20/2012 page16)
Singapore Stocks - Factors to watch on July 20 - Reuters
Thomson Reuters is the world's largest international multimedia news agency, providing investing news, world news, business news, technology news, headline news, small business news, news alerts, personal finance, stock market, and mutual funds information available on Reuters.com, video, mobile, and interactive television platforms. Thomson Reuters journalists are subject to an Editorial Handbook which requires fair presentation and disclosure of relevant interests.
NYSE and AMEX quotes delayed by at least 20 minutes. Nasdaq delayed by at least 15 minutes. For a complete list of exchanges and delays, please click here.
Rogue money firms face instant closure by OFT - BBC News
19 July 2012
Last updated at
15:31
The Office of Fair Trading is being given the power to instantly stop rogue money lenders, debt collectors and debt advice firms from operating.
The government is amending the Financial Services Bill, which is currently in the Lords, to give the OFT the power to suspend firms' consumer credit licences with immediate effect.
At the moment appeals can hold up such decisions by up to two years.
Consumers' association Which? said the move was a "good step forwards".
"Our research has found that people taking out payday loans are often caught in a downward spiral of debt," said Richard Lloyd, executive director of Which?.
"So it is important that the Office of Fair Trading will have the power to instantly suspend the credit licences of unscrupulous lenders caught breaking the existing rules."
The OFT's powers will only last until the regulation of consumer credit businesses is transferred to the new Financial Conduct Authority in April 2014.
The Consumer Affairs Minister, Norman Lamb, said: "This will put a stop to those companies who exploit vulnerable consumers whilst dragging matters through a slow legal process."
"It will also give a boost to legitimate businesses, with the swift suspension of unscrupulous traders.
"The new measure is part of a concerted approach to strengthen protection around consumer credit, including issues such as payday lending and debt management," he added.
'Vital tool'
In the past decade there have been numerous attempts by the OFT to regulate the rapidly growing "industries" of short-term money lending, loan-broking, debt collection and debt advice.
But despite clear rules of conduct being in place for a long time, the industries are still plagued by rogues who ignore the rules for as long as possible.
Lee Manning, of the insolvency professionals trade body R3, said the new power for the OFT should be applauded.
"This will hit rogue companies who provide goods or services on credit, lend money, collect debts or help people with debts," he said.
"This includes payday loan and debt management companies who break the rules - they have arrived in force on the internet and on our High Streets, while regulation has been slow to keep up."
Sarah Brooks of Consumer Focus said: "Companies under threat of losing their consumer credit licence have no incentive to improve their behaviour and some use the appeal process to gain more time to cash in at their customers' expense."
"It isn't often that the regulator resorts to taking away licences, but it is a vital tool to have if it feels firms are not playing fair with their customers."
Financial Times hits back in new trademark clash with Times of India - The Guardian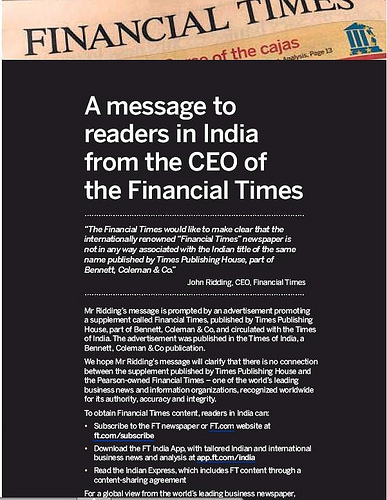 A new battlefront has opened in the long war between the Financial Times and The Times of India over the use of the FT's trademarked name.
The launch by the Times (TOI) of a new supplement called the Financial Times has prompted the FT's chief executive, John Ridding, to hit back with a full-page advert in another newspaper.
The ad in today's Hindustan Times, under the FT's familiar masthead, is headlined: "A message to readers in India from the CEO of the Financial Times". It then carries a quote from Ridding:
"The Financial Times would like to make it clear that the internationally renowned 'Financial Times' newspaper is not in any way associated with the Indian title of the same name, published by Times Publishing House (TPH), part of Bennett, Coleman & Co."
TOI has been using the FT's name for almost 18 years but, after a legal fight, has been required to carry a disclaimer stating that it was "not in arrangement with Financial Times, London". That disclaimer is missing from the new supplement.
It was thought that the war had been largely settled in a court ruling in May this year. Though a second court hearing is due in October, this fresh twist has taken the FT and its owner, Pearson, somewhat by surprise.
Khozem Merchant, president of Pearson India, said it was important to avoid confusion for readers. "What sets us apart is not only the quality of our journalism but the fact that we are distinguished because of our print, online and award-winning apps," he said.
The FT has a content-sharing agreement with the Indian Express, which has led to TOI suing the Express in order to stop it from using "FT" or "Financial Times" in its paper. The matter is pending in the Bangalore high court.
Sources: Sans Serif/Hindustan Times/live.mint/Indian Kanoon
Stocks creep up; IBM, other tech stocks rise - Washington Times
NEW YORK — Strong earnings from IBM and other technology companies nudged the stock market higher Thursday, but a trio of weak economic reports kept the gains in check.
IBM surged 4 percent after it posted a jump in profits late Wednesday even as revenue fell. It marked the 38th consecutive quarter that IBM's net income rose over the previous year. IBM leapt $7.09 to $195.34.
The Dow Jones industrial average rose 34.66 points to close at 12,943.36 on Thursday, the third straight day of gains.
"One thing is dominating today and it's tech earnings," said Lawrence Creatura, portfolio manager at the mutual fund manager Federated Investors. "Earnings have been better than a lot of people expected. That could still change, but so far, so good."
Analysts forecast that earnings at S&P 500 companies shrank 1.5 percent in the April-through-June period versus a year ago, according to researchers at S&P Capital IQ. If that turns out to be true, it will be the worst earnings season since the summer quarter of 2009.
In other trading, the Standard & Poor's 500 index gained 3.73 points to 1,376.51. The Nasdaq composite index rose 23.30 points to 2,965.90.
Despite the modest gains, utilities and consumer staples lagged behind the market, usually a sign that investors were willing to take on risk.
eBay jumped 9 percent after the company reported that its second-quarter net income doubled, thanks to higher revenue from its PayPal online payments business and its e-commerce websites. eBay rose $3.73 to $44.19.
The market wavered in early trading, flipping from gains to losses and back again, after a measure of manufacturing in the mid-Atlantic region came in much weaker than economists had expected. Two other economic reports also released at 10 a.m., homes sales and leading economic indicators, were also weak.
Big banks and financial firms were mostly lower, following poor earnings reports from American Express and Morgan Stanley.
American Express lost 4 percent, the largest drop in the Dow, after its earnings missed Wall Street's expectations. Slower growth in Europe weighed on the credit-card company's results as international revenue fell 4 percent. Amex lost $2.06 to $56.23.
Morgan Stanley fell 74 cents to $13.25, a drop of 6 percent. The investment bank's income and revenue fell far short of what analysts expected, dragged down by dismal results from trading stocks and bonds.
The Dow is now up 1.3 percent for the week, and the S&P 500 index 1.5 percent.
Among other stocks making big moves:
• Walgreen Co. soared 12 percent, the largest gain in the S&P 500. The Walgreen pharmacy chain and Express Scripts reached an agreement in which Walgreen will once again fill prescriptions from people in the Express Scripts network. That ended a dispute between the two companies. Walgreen gained $3.65 to $34.62.
• Textron jumped 12 percent. The maker of Cessna planes reported that its quarterly earnings nearly doubled. The results trounced Wall Street analysts' estimates, thanks to rising demand for its Citation line of business jets and Bell helicopters. Textron gained $2.74 to $26.50.
• Johnson Controls sank 8 percent. Earnings for the maker of auto parts and building equipment fell far short of expectations, partially a result of a weaker euro and sluggish demand from Europe. The company said it expects Europe to remain a problem. Johnson Controls' stock lost $2.25 to $26.07.
Copyright 2012 The Associated Press. All rights reserved. This material may not be published, broadcast, rewritten or redistributed.
CANADA STOCKS-TSX extends rally on resource stocks - Reuters India
Thomson Reuters is the world's largest international multimedia news agency, providing investing news, world news, business news, technology news, headline news, small business news, news alerts, personal finance, stock market, and mutual funds information available on Reuters.com, video, mobile, and interactive television platforms. Thomson Reuters journalists are subject to an Editorial Handbook which requires fair presentation and disclosure of relevant interests.
NYSE and AMEX quotes delayed by at least 20 minutes. Nasdaq delayed by at least 15 minutes. For a complete list of exchanges and delays, please click here.
Money paves road to the top - New Zealand Herald
Do Mitt Romney and John Key understand what it's like to be bottom of the heap?
There were some who felt the Occupy Wall Street movement was the preserve of new-age hippies in ramshackle tent-towns ranting aimlessly against "the man".
But despite the apathy, even aggression, the movement engendered among much of the general population - even here in New Zealand, where "get a haircut, and get a real job!" seemed to be the main retort to Occupy camps - the movement achieved one thing. Its main message, that a lucky few work zealously to protect a level of privilege completely inaccessible to the rest of us, has seeped into the general consciousness. Even if most of us have no intention of doing anything about it.
When even Americans are questioning the fairness of their much-vaunted capitalist system, it's pretty obvious a sea-change has occurred. Under normal circumstances, US Republican presidential hopeful Mitt Romney, a ruthlessly successful businessman, might have been held up as nothing short of inspirational. Now, though, he is suffering for his links to the private equity firm he co-founded in 1984, Bain Capital.
It's beyond doubt that Bain, which Romney ran until 1999, did what the most aggressive, high-flying private equity funds have always done - pick floundering targets, raise debt and slash costs, all the while ensuring there's still plenty of cream for shareholders.
Ethical or not, it's all legal stuff.
But his background as a corporate raider (or "vulture capitalist" as his critics would have it) has put Mitt on the back foot in his race to the White House. Some of the companies Bain "restructured" were forced to outsource their work to the likes of China and India and/or lay off lots of people, and that still wasn't enough to stop several of them careening into bankruptcy.
Much of this misery happened in the years between 1999 and 2002, when Romney had ostensibly left Bain to run the Winter Olympics in Salt Lake City. But Mitt continued - continues to this day, in fact - to draw a share of profits from the firm, as well as earn millions for his family from a blind trust run by Bain. A lot of the money is also channelled offshore, allowing the obscenely rich Romney to pay as little tax as possible.
Again, there's nothing to suggest anything illegal. But should a significant stakeholder in any firm be held responsible for the actions of that firm if they later offend public sensibilities? Is it unfair to expect private equity firms or their managers to hold fast to certain ethical mores, or, as received wisdom would have it, are they there to return the maximum possible profit to shareholders without fear or favour?
A more fundamental question, perhaps: is running a private equity firm in any way good training to run a nation?
In New Zealand we appear to have bucked the trend in the rest of the world; far from treating moneyed men with suspicion and contempt, we have twice voted one into the top job, and continue to give him the benefit of the doubt. John Key does not come from great wealth, like Romney, but he does come from the privilege of a loving home. With this behind him, he has gone on to build a successful career and great wealth.
Does he, like Romney, really have the required understanding of what it's like to be at the bottom of the heap? Or in John Key's continued success - and Romney's prospective success - are we revealing that we don't think the question matters anymore?
* Illustration by Anna Crichton: illustrator@annacrichton.com
By Dita De Boni